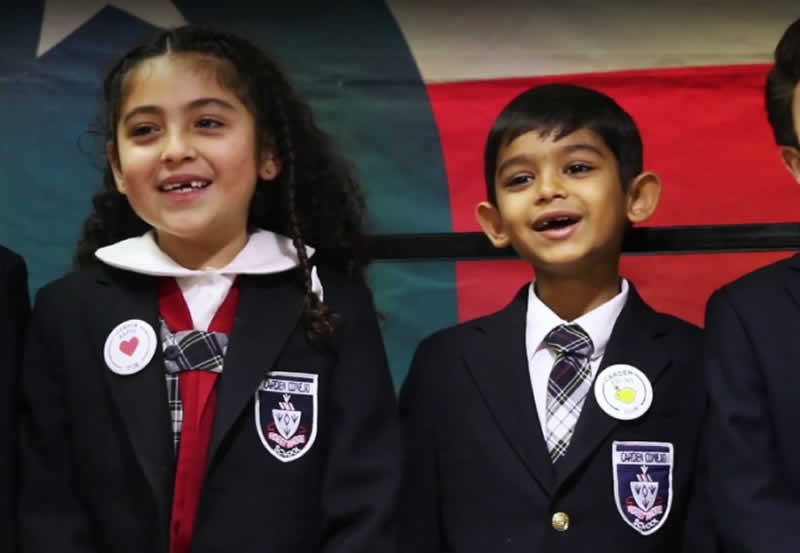 01 Nov

Carden Conejo Open House: An Inside Look at What We Have to Offer

With our Open House fast approaching, we wanted to give you greater insight into what children gain by attending the Carden Conejo School. At our Open House, you'll have the opportunity to tour our campus, visit our classrooms, meet Carden teachers, and learn more about all the benefits that a Carden education has to offer.

If you're still unsure about the Carden educational model and want to learn more about our school, then take a look at some of the ways the Carden Conejo School works to help children find joy in learning.
We Develop the Whole Child
In many educational settings, students are not challenged enough—resulting in a lack of character. Character development is what sets Carden Conejo School apart from other elementary schools in the region. We go beyond the coursework to teach values to each child and help them to develop as a whole. School should be about more than academic standards, it should be about what best prepares children for happy, successful lives.
Our academic curriculum not only helps students succeed and thrive in each stage of their development but also aids them in developing socially. Students are taught to develop social
and emotional intelligence so that they can have stronger relationships with family, friends, and teachers. Our approach to whole-child education prepares students to become worthy citizens in society. At our Open House, we can answer your questions and give you more insight into how we teach the whole child.
We Cultivate a Passion for Learning
One of the primary goals of our curriculum is to cultivate a passion for learning within each individual child. Every year, we want students to come back to school feeling excited at the prospect of expanding their knowledge further. With a love of learning, children become more independent and successful in school—without requiring motivation from teachers or parents. Their passion for learning starts in our classrooms. Because we provide small class sizes, students receive more one-on-one attention. Carden students never get lost in the crowd.
Our teachers are passionate about the learning process, and this passion proves contagious. Through instruction from talented teachers, children come to appreciate what they learn in the classroom. The enthusiasm of each teacher can help children to become more engaged and have a deeper interest in each subject. At our Open House, you will have the opportunity to meet our teachers in person and learn more about how teachers work to engage students in the classroom.
We Instill Self-Confidence
Without confidence, it can be extremely challenging for children to learn and develop. At Carden, we help children develop communication skills and confidence. We encourage children to participate in public speaking, which helps them face their fears and learn how to communicate a specific message to a group of people. With enough practice, the child can feel more equipped to participate in public speaking and avoid isolating themselves in social settings.
Independent learning is a priority at our school because we want children to take an active role in their education and their lives. In an independent learning environment, kids develop greater awareness of their limitations and how to overcome them. Ultimately, this sense of independence sets children up for success as they move through elementary school and beyond. Independent learning also fosters social inclusion by preventing certain students from becoming alienated in the classroom.
Our music and arts curriculum also shapes each student's confidence by allowing each child to express themselves in a creative setting without sacrificing their sense of individuality Through the arts, children are able to experience the joy that comes with the activity. Over time, children are able to build confidence in their own abilities. With more self-confidence, students have an easier time accepting responsibility for learning and applying constructive suggestions that are
incorporated into personal work habits. Our Open House can provide you with more information on the Carden Conejo School Arts program and how we help instill confidence in students.
We Encourage Students to Reach Their Full Potential
The Carden curriculum also helps students reach their full potential. Math, science, and technology opens up limitless future possibilities for children. At the Carden Conejo School, we combine world-class Singapore Math curriculum, inquiry-based FOSS Science curriculum, and Computer and Technology studies to prepare students for success beyond elementary school.
By experimenting with different projects and learning about the world around them, they'll develop a natural curiosity for the subjects. With a solid educational foundation, Carden students have a desire to dream big and develop new ideas. Students are also more inclined to understand the value of good work habits and develop more stamina to use them in their own lives. They become more prepared to move freely in adult society. This can be seen in how our students go on to attend top private schools and universities throughout the country.
Beyond the coursework, a Carden education helps students develop a work ethic early on and form habits that enable them to thrive. Our collaborative learning environment teaches students to communicate effectively with other people and develop confidence with what they contribute. Visit our school and learn more about how we help children achieve greatness later in life.
We Teach Students to Think Critically
Memorization is a common practice used to teach children in traditional schools, which many parents and teachers are satisfied with. At the Carden Conejo School, we believe that we can do more for students. Rote memorization prevents students from obtaining a complete knowledge of fundamental subjects. This type of imitative learning can cause children to lose interest in the subject and their education as a whole.
With Carden, comprehension is a keystone that helps the child not only grasp what they are learning but also retain it. Teachers are only satisfied when their students prove they understand the subjects. Because of our small class sizes, our teachers are able to adapt to the learning style of your child. This unique learning environment helps students gain new information and learn how to apply it in a creative and useful way.
The education philosophy created by Mae Carden is centered around teaching children to think, use analysis, and present the interconnectedness of subjects. Our lessons focus heavily on grammar because Mae believed children could only succeed if they have comprehension. With Carden, students are required to read more material than in public schools because literacy is the master key that opens students to comprehending all other school subjects. You can learn even more about our approach to Language and Literacy at our upcoming Open House.
We Help With Raising Kids the Right Way
Carden Conejo School also teaches children to be better people by teaching the importance of manners. By learning proper etiquette in various types of settings, students can learn how to have respect for other individuals and how to present themselves in a way that allows other children and adults to respect them. By developing morals, children go on to live a happier and more productive life that allows them to contribute to society with their thoughts, ideas, and accomplishments.
Developing a sense of morality is one of the most critical lessons incorporated into the Carden curriculum. At our school, children will learn the significance of honor, integrity, and personal responsibility. These core values will give children what they need to reach their goals, take on leadership roles, and build up their local communities. At the Carden Conejo School, we believe in raising children right. To us, this means combining academic excellence with the development of core values. Our elementary school doesn't just help children be better students, we help children be better people.
We Invite You to Attend Our Open House
The Carden Conejo School provides a learning environment where students can achieve their full intellectual, emotional, and creative potential. Our students leave school prepared for the next phase of their education—equipped with a greater sense of personal responsibility and purpose as they tackle future goals.
While we have given you a preview of all that Carden has to offer, you really should experience it for yourself. That's why we invite you to attend our Open House on Sunday, November 17 from 1:00 pm to 3:00 pm. At this time, we will open up our campus so you can learn more about our unique approach to elementary education. Tour our lush, eight-acre campus, peek inside our classrooms, and ask our teachers questions about student life at Carden. We believe that your child deserves the best education possible, let us show you how we can make that happen.
Can't make it to our Open House? Call us at 805.497.7005 to schedule a private tour of our campus.